If you are preparing to move into your new build or are looking to revamp your outdoor living area, there are many options when it comes to flooring. Of course, you want a material that is durable, attractive and easy to maintain and with that in mind, here are some of the popular outdoor flooring materials for you to consider.
Natural Stone
Granite or marble can make for the perfect terrace flooring and while it is costly, natural stone will last a lifetime. Some stones do not retain heat, which is great for those hot summer days and, of course, stone is easy to keep clean.
Man-Made Pavers
Another popular choice, there are unlimited design options with pavers and you can install in wet cement with grouting, or the pavers can be laid on dry and sand cement. Benefits of tiles include easy replacement in the event of damage, plus they are impervious to water and will last for many years. You can clean the floor with a power wash, which will restore the surface to its original condition and effectively removes all types of stains.
Timber Decking
Arguably the most popular of all, especially in Australia, timber decking is elegant and very durable and with a wide choice of species that includes oak, pine, birch and ash. If you would like to view a good selection of timber decking, a simple Google search will help you locate a local timber supplier and most offer free installation. Engineered timber is a cost-effective alternative to solid timber, which is made from a composite core with an outer layer of real timber, which is 3-5mm in thickness.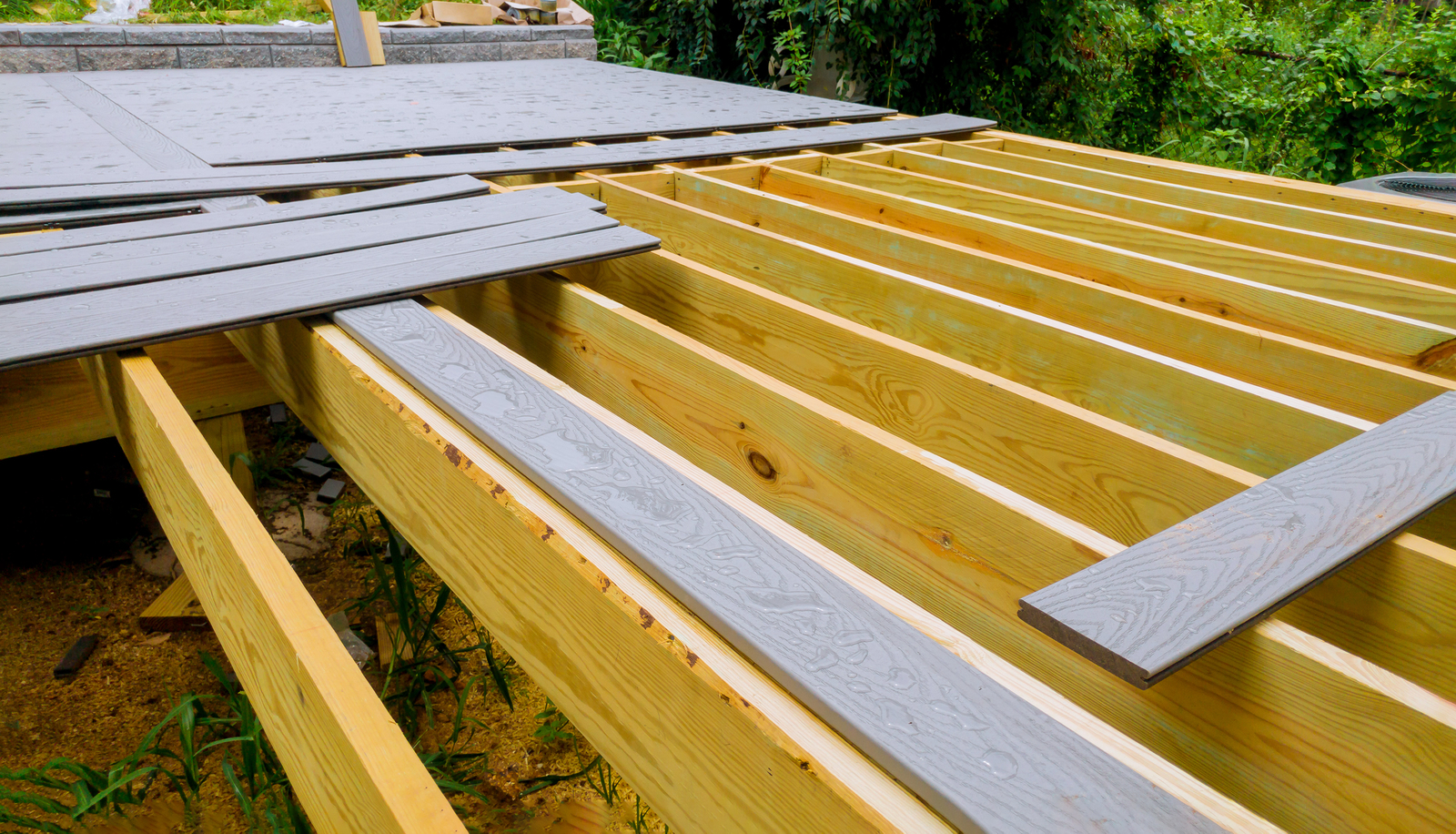 Cork Flooring
Although cork is a timber, we feel it differs enough to warrant its own section. This amazing material offers a soft and silent walking experience and with 100% natural cork floor tiles, you won't have far to go to experience the product in a real-life environment. The cork is harvested in a sustainable way (no trees are harmed in the harvest) and installed in tile form, then a special protective sealant is applied.
Concrete
Concrete is a very versatile material, with many hand tools that create stunning finishes, while polished concrete is another option and let's not forget that you are not limited regarding colour. Once you have shuttered up the area, call the ready-mixed concrete supplier and they will deliver the product into the form and after levelling, the floor can be left to set.
Block Paving
Block paving is not limited to driveways, indeed, many patios have block paving incorporated, which looks stunning, especially when using several colours to create a pattern. For a free quote, search online for a block paving specialist and ask them to pay you a home visit, when you can discuss the many options with the technician.
There are a few aspects to consider when choosing exterior flooring, which should be in keeping with the overall look of the property. The above options should be carefully considered.